Clarita is a portfolio WordPress theme that combines Gutenberg patterns and minimalism. With little imagination you can create portfolio site, or a business presentation.
Theme specifications
Recommended logo size: 280x60px.
Single page content area width: 1420px.
Single post content width: 860px.
Theme installation
The theme can be installed through the WordPress Admin panel.
Log in to the WordPress admin panel.
Go to Appearance -> Themes.
Click on the Add New button, at the top of the screen.
In the Add Themes screen, click on Upload Theme.
Click on Choose theme, and then browse for theme file on your computer.
Click on Install Now to start the installation.
After the installation is done, click on Activate theme.
A detailed video of theme installation is available here.
After activating the theme, you will be prompted to install the required plugins. Required plugins are:
Kirki Customizer Framework
Jetpack plugin setup
Jetpack plugin is a required plugin. After installing the plugin, you will need to connect it with your site. When you click the Set up Jetpack button, you will need to log in to your WordPress.com account, or you'll have to create a free Jetpack account. The official article that explains how to set up the Jetpack plugin is available here.
Theme features – explained
Clarita theme is using Gutenberg blocks for creating layouts. Aside from using the default block and the Jetpack blocks, the theme is relying on a set of built-in blocks, which are organized into five categories:
Buttons
Columns
Gallery
Text
Clarita Project
Clarita Gallery
Clarita Contact
Clarita About
Clarita Call to Action
To add a custom block, click on the black square with a plus icon, and then, in the quick block picker, click on "Browse all". Then, in the sidebar, click on the Patterns panel.
Buttons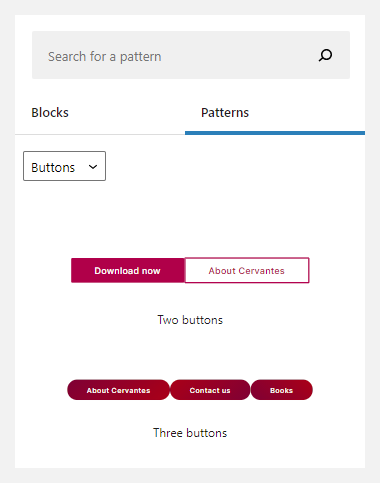 Buttons are styled links, and they are usually part of the call to action areas. There are two options for inserting two or three buttons. Of course, you can remove the unnecessary buttons.
Available settings for buttons:

Style: Style for a button can be fill (solid background) or just outline.
Color settings: You can set colors for the button background (or border, if you choose the outline option) and button text.
Border radius: Defines radius for button corners, making them appear round.
Columns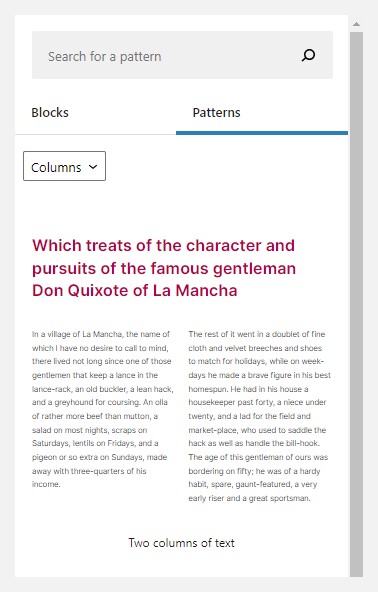 Columns allow you to enter text in two columns – just like in the newspapers. There are three styles for columns available: heading text with two columns, two columns of text with images, and three columns of text with buttons.
Available settings for columns:

Typography: Size of the text in pixels. You can also change the line height. The default value is 1.5.
Color settings: You can set colors for the column background and its text.
Text settings: Dropcap capitalizes each paragraph's first letter and makes it larger.
Gallery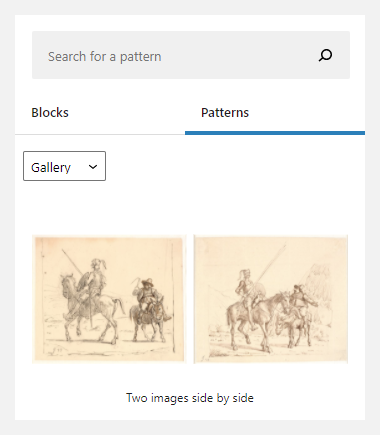 The Gallery block displays two images in-line. This block is wider than the content area itself and takes 1420px of the page width.
Gallery settings: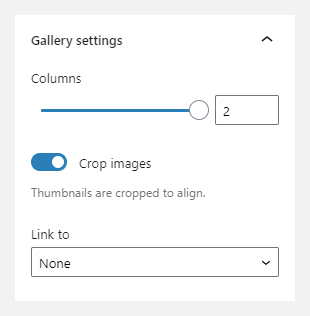 Columns: Currently, images can be displayed only in one or two columns.
Crop images: Use when one image is not the same height as the other and should be cropped to align vertically.
Link to: The images in a Gallery can be linked to a media file or an attachment page. They don't have to be linked.
Text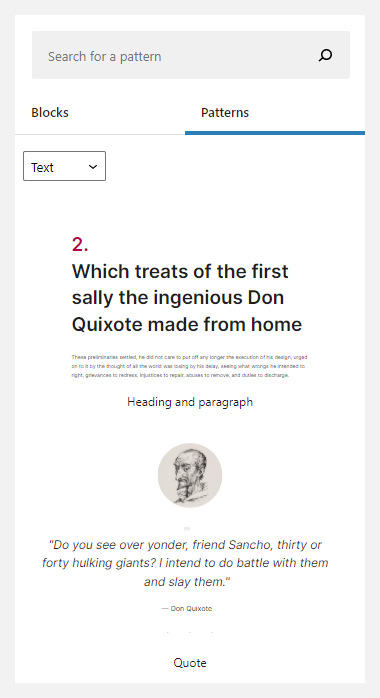 For a Text block, you have two options – Heading and paragraph and Quote.
The Heading and paragraph block is built to make any heading outstanding compared to the text.
The Quote block is used for displaying citations with an image. The image can be deleted.
Standard text settings are available for both of the Text blogs – background color and text color.
Clarita Project
Clarita Project pattern is a theme-specific pattern. It's an outstanding block text, which you can use to present a project or some process. There are four variations of this pattern.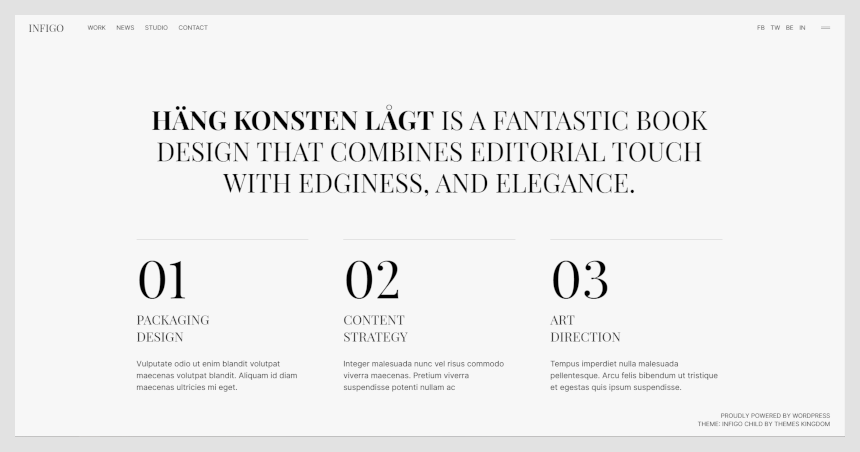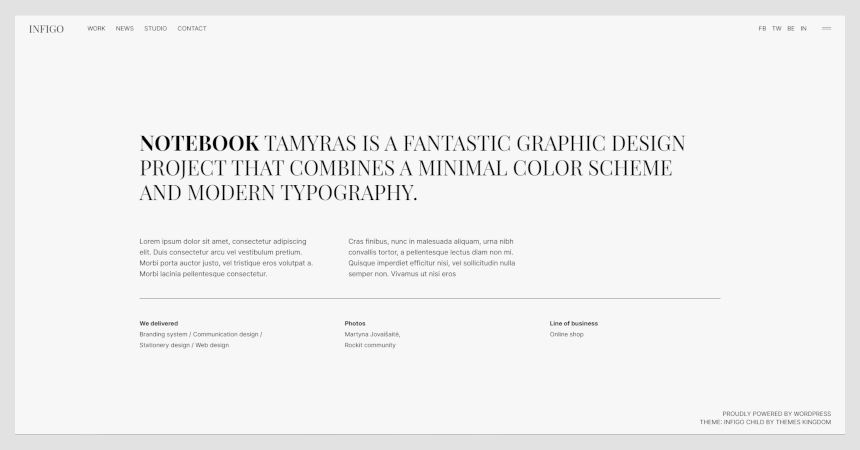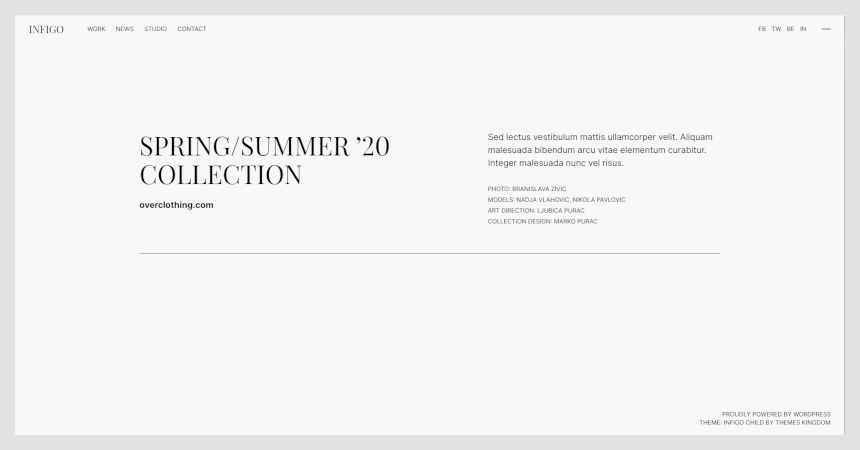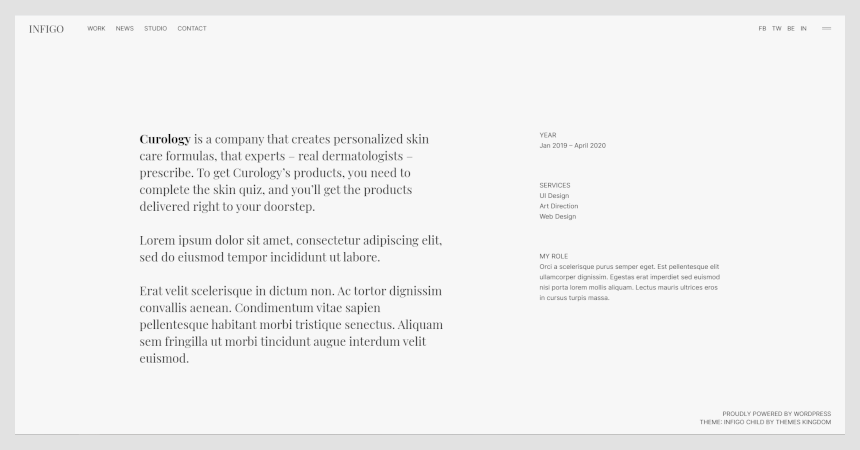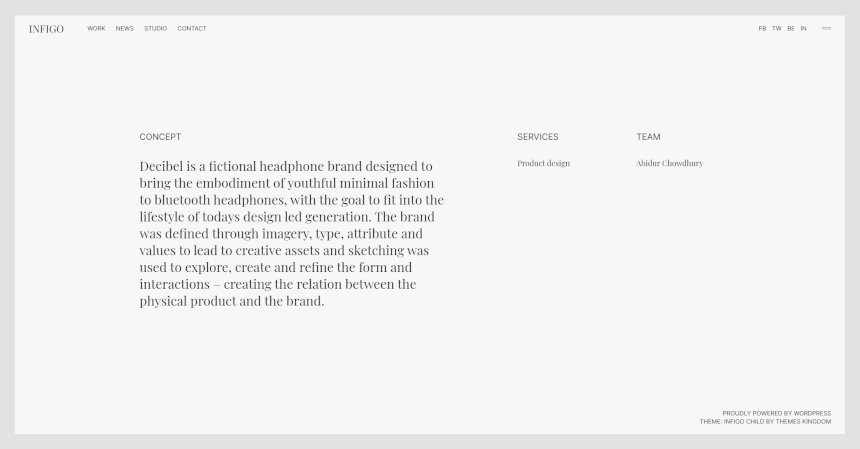 Clarita Gallery
Clarita Gallery is a pattern that is used to display image galleries in various layouts. Four styles cover mosaic, grid, shuffle, and linear gallery. Images can be added as in the classic WordPress gallery.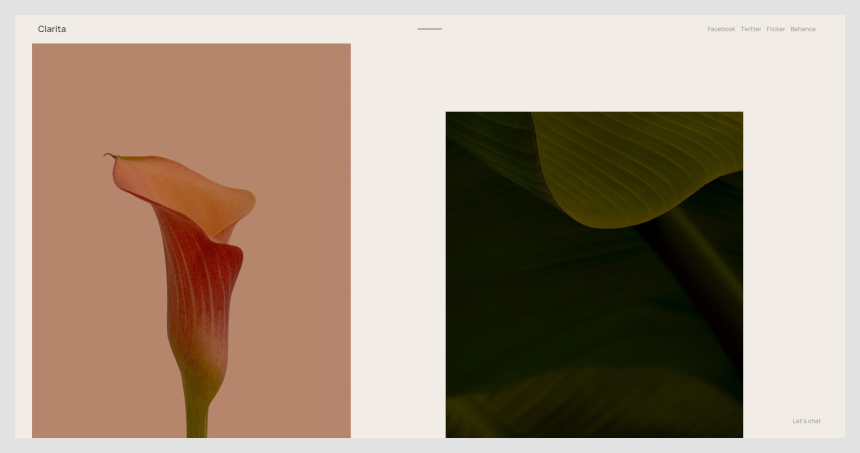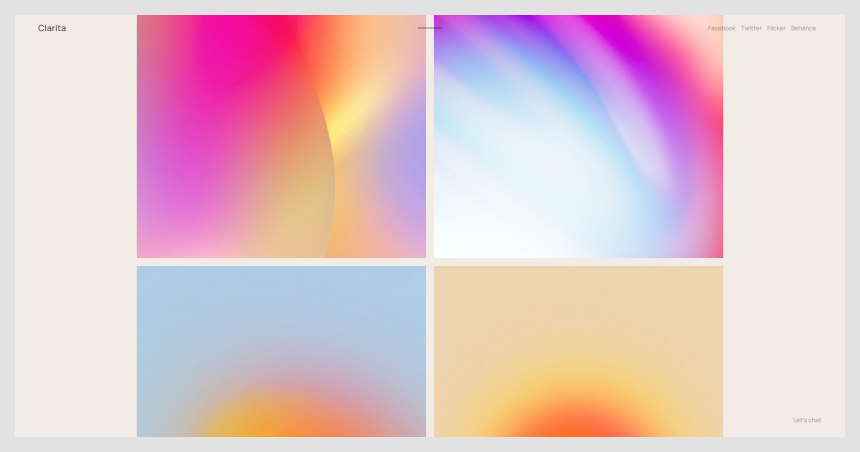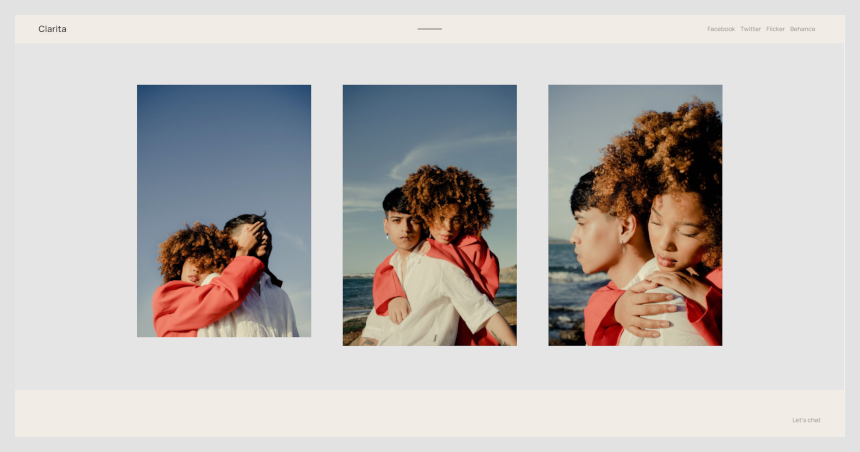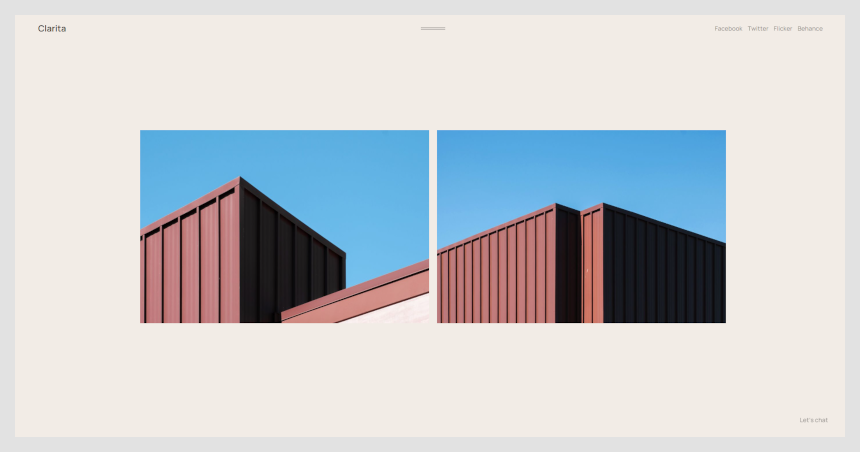 Clarita Contact
The Contact pattern is a simple block used to display contact information – email, social links, and such. Three different styles of a Contact pattern are available.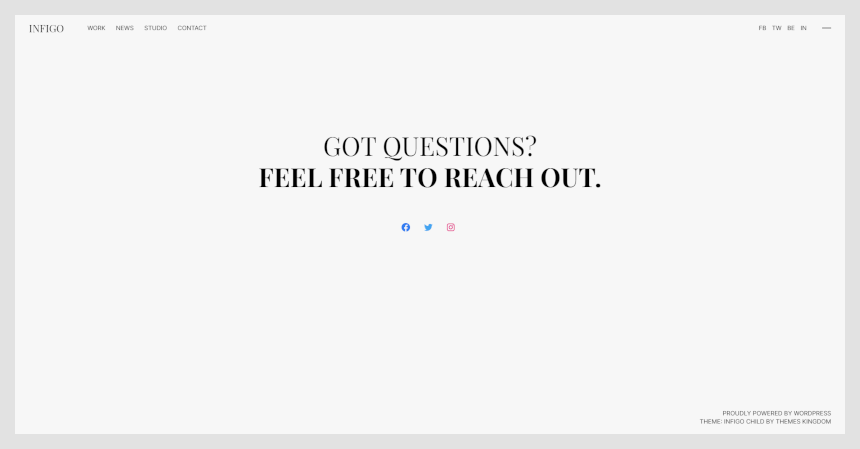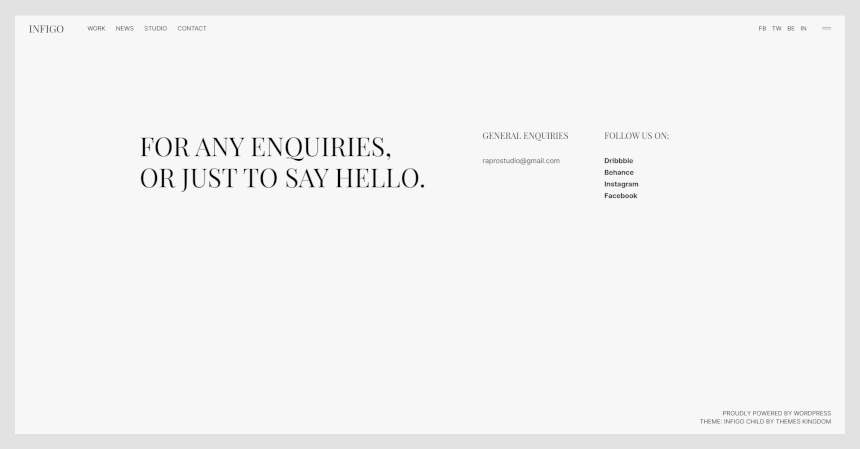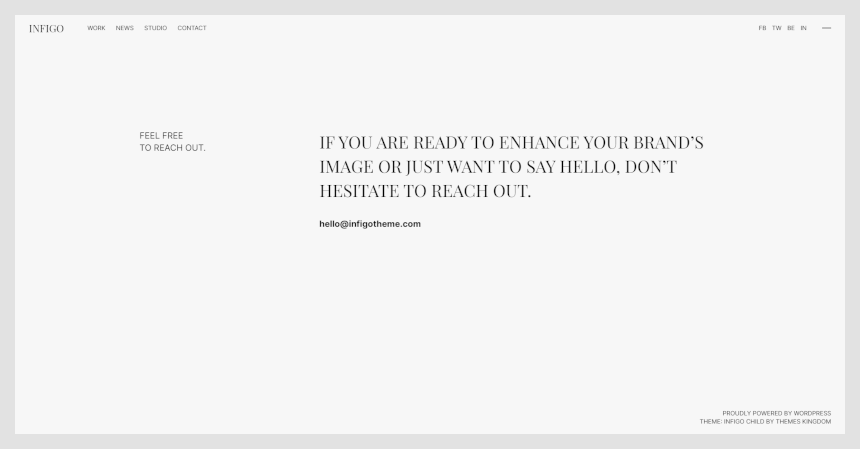 Clarita About
The About pattern can be used to present single person information or information about your team members. It can also be used to display any information that requires adding large images.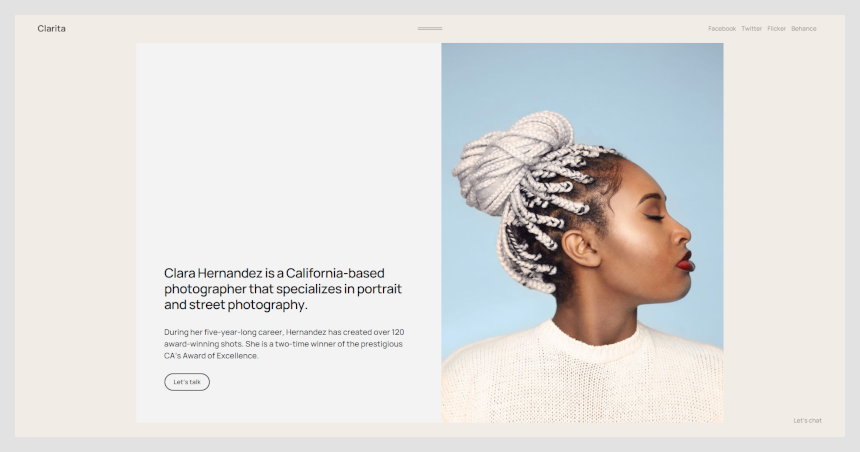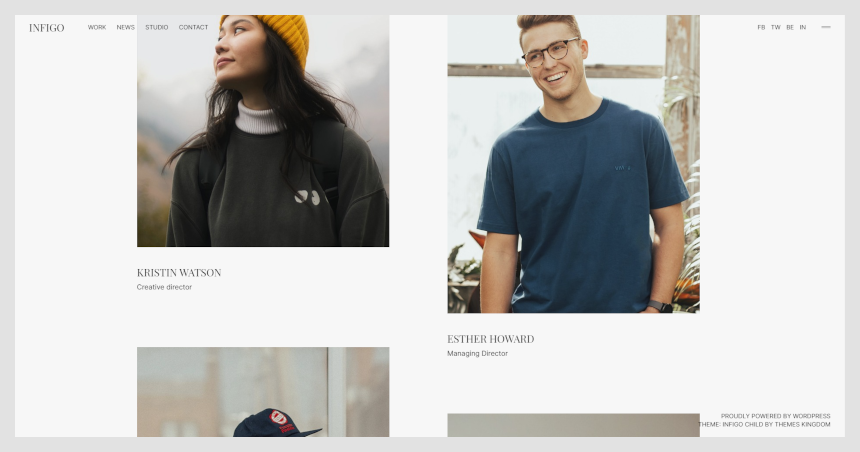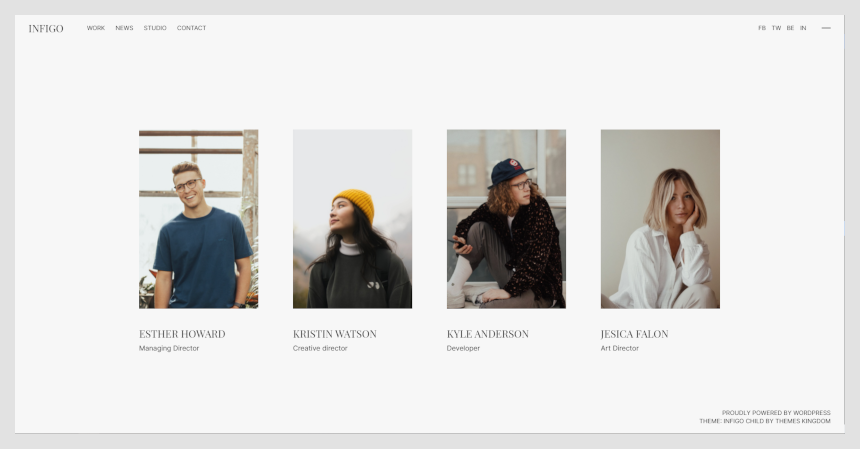 Clarita Call to Action
This block is useful when you wish to create an outstanding section, which needs to catch the site visitors' attention. Both text color and text background color can be customized. Three variations of the call to action pattern are available.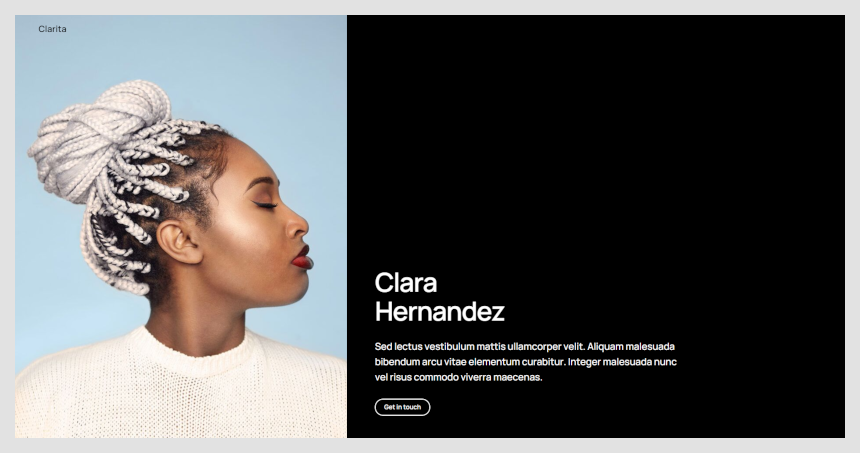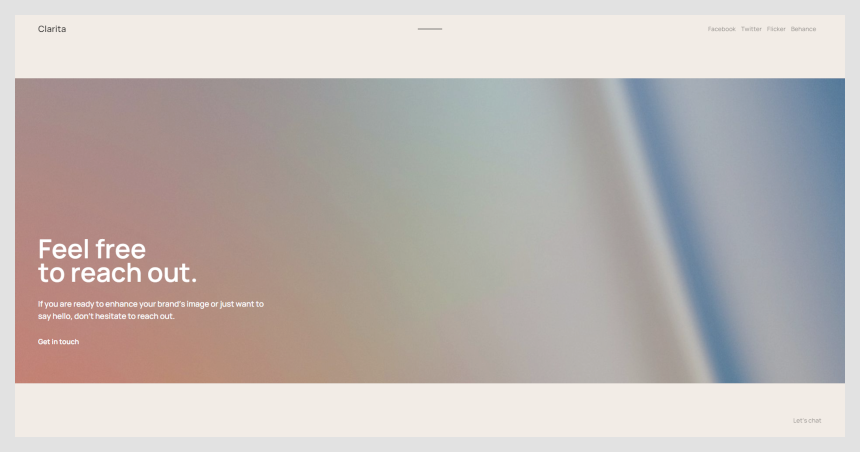 Theme Customizer options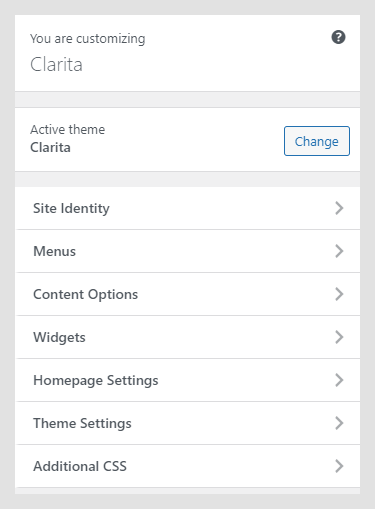 The Customizer is a great WordPress feature that allows you to customize the theme and set theme options. Theme specific settings:
Site Identity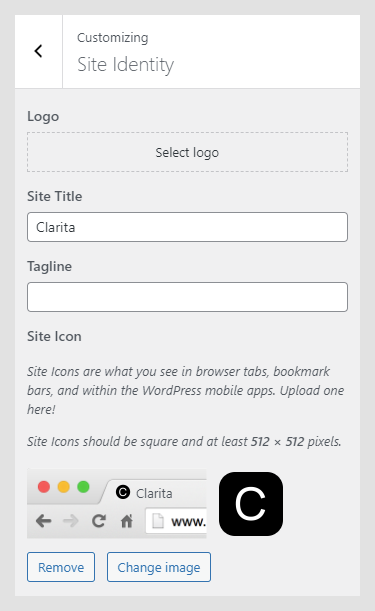 Site Identity allows you to set your Site Title, Tagline, and Icon.
The Site Title is the name of your site, and it's displayed in the header, where the logo is displayed.
The Tagline is a short description or your motto, and it's displayed just below the title. This setting is the same as in Settings -> General in the WordPress admin panel.
Logo: Upload logo for your site. The logo should be in a PNG or JPEG/JPG format. Recommended logo size is 280x60px.
Site Title: The name of your site.
Tagline: Site punchline.
Site Icon: The Site Icon is used as a browser and app icon for your site. Icons must be square and at least 512px wide and tall.
Content Options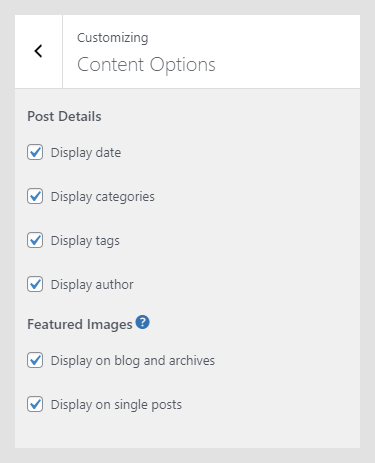 The Content Options panel controls the appearance of metadata on the single post page and where the featured image will appear.
Post details:
Display date
Display categories
Display tags
Display author
Featured images:
Display on blog and archives
Display on single posts
Menus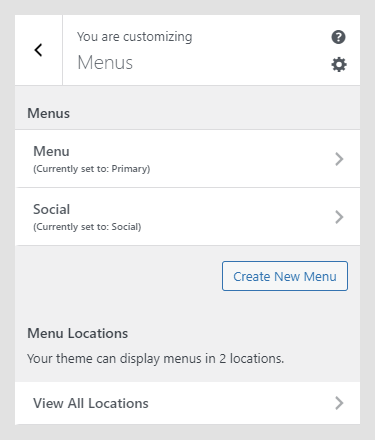 This option allows you to manage created menus quickly. You can select which created menu will be displayed as a Primary Menu or Footer Menu. If you need to manage actual menu items, you can do that in Appearance -> Menu.
Widgets
The Widgets section allows you to manage widgets in widget areas quickly. This option allows you the same possibility as the Widgets option in the WordPress admin panel.
Homepage Settings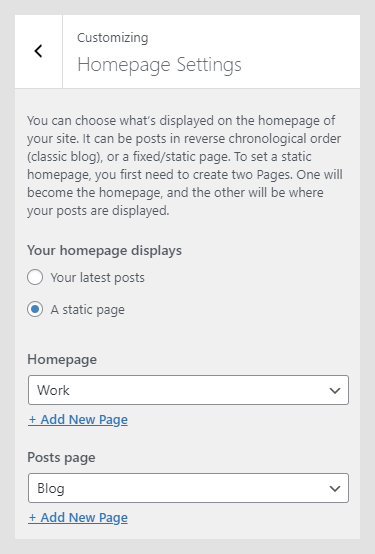 In this setting, you can change theme reading settings. The theme can be set either to display the latest posts on the homepage or to display a static homepage page. Theme reading settings can be also managed in Settings -> Reading.
Theme Settings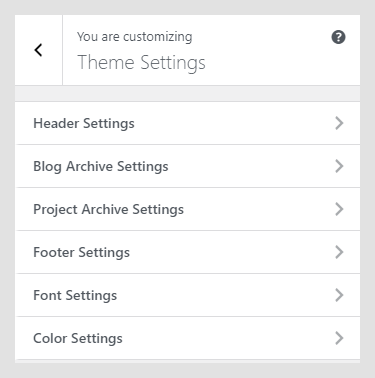 Header Settings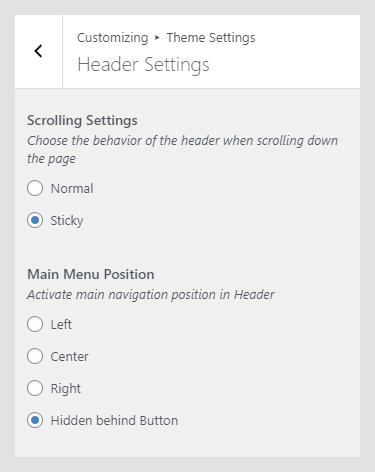 In the Header Settings, you can change the main menu position and header behavior.
In Scrolling Settings, you can set menu to be sticky or to scroll with the page.
Main menu position defines where the main menu will appear – on the left, centered, right, or to be hidden behind the "hamburger" button.
Blog Archive Settings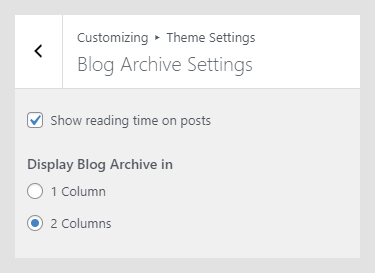 Show reading time on posts: If enabled, predicted reading time will be displayed in the bottom left corner, with the progress bar.
Blog archive layout: Blog page can be set to display posts in one or two columns.
ProjectArchive Settings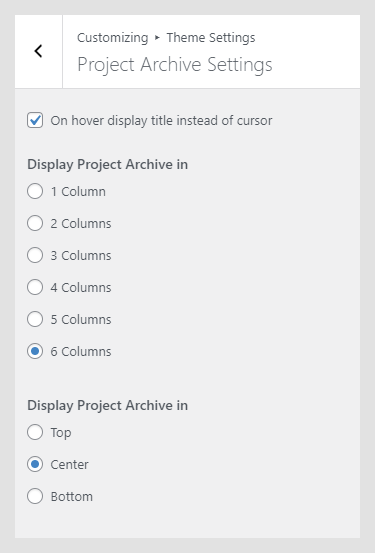 Project Archive Settings control the appearance of a project page.
On hover display title instead of cursor: Project title will be displayed over featured image on portfolio page, instead of the system cursor.
Display Project Archive in: Project archive can be set to display projects in one, two, three, four, five or six columns.
Display Project Archive in: Project items can be set to be lined up by the top image line, by middle line, or by bottom.
Footer Settings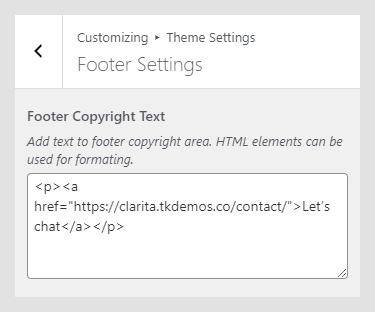 In the Footer Copyright field, you can enter your copyright or contact details. HTML tags can be used to style text.
Font Settings


Font Settings allow you to set the desired font family for the paragraphs, headings, and navigation. The Font Settings option requires the Kirki Framework plugin to be installed and active.
All available fonts are Google Fonts. Custom fonts can be implemented with some CSS changes – feel free to submit a support ticket, and we will handle that for you.
Option Uppercase will make titles and information all uppercase.
Color Settings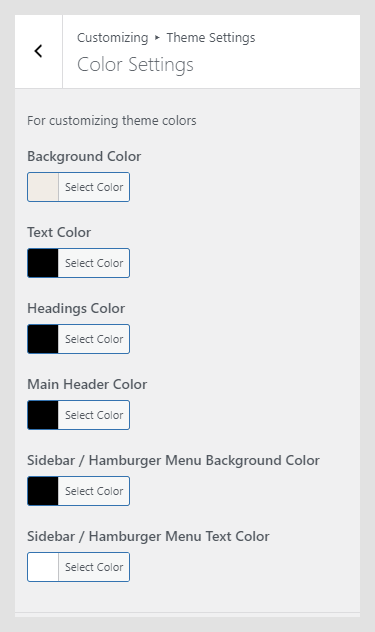 In Color Settings, you can control colors for different parts of the theme.
Background Color
Text Color
Headings Color
Main Header Color
Sidebar / Hamburger Menu Background Color
Sidebar / Hamburger Menu Text Color
Additional CSS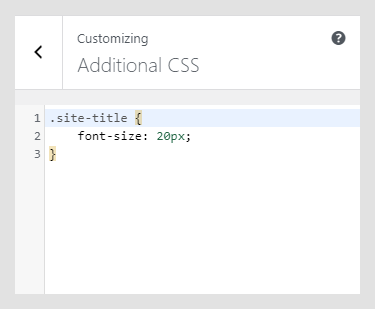 In the Additional CSS section, you can enter your custom CSS classes, so you don't need to mess with original styles or create a child theme. Of course, you should create a child theme if you plan to modify other files, as well.
Was this article helpful?