To install any theme you must have a working version of WordPress. If you dont have it already installed, the following installation guide will help you with that http://codex.wordpress.org/Installing_WordPress
Themes can be installed in two different ways:
Insalling through WordPress
The Traditional installation using FTP client
For both installations first We need to make sure that We are using the correct file. Depending on where you have purchased our themes follow one of the instructions bellow:
Themes Kingdom: If you purchased the theme on ThemesKingdom, download theme files and skip to the installation part.
Theme Forest: If you purchased your theme on ThemeForest, download theme files, unzip, and inside you will find several folders such as "Documentation", "PSD" and "WP".
Open "WP" folder and you will see "Your_Theme_Name.zip" file, this is the file We need in order to continue with the installation.
Installation through WordPress
To access your WordPress admin section simply type /wp-admin after your url, for example, if your site address is http://www.example.com you need to type in http://www.example.com/wp-admin
Now type in your username and password and you are in.
Now that You are in your WordPress Admin panel, navigate to Appearance -> Themes
Go to your "Install Theme" tab which is right next to "Manage Themes" tab.
Once you are on "Install Theme" tab, click on "Upload" link.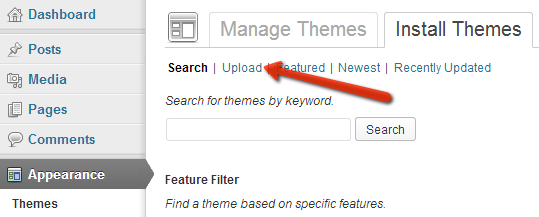 Now you need to click on "Choose File" button and open the theme .zip file I mentioned before.
After you have selected the correct file click on "Install Now" button and wait for theme to upload.
When the download is complete simply click on "Activate" link and you are done, you can now start using your theme.
The Traditional Insallation using FTP client
Installation using FTP client is quite easy to do. First things first, you will need an FTP client (example FileZilla which is free, easy to use and it works on Windows, Mac and Linux).
Use FTP client to access your web host server.
Unzip theme file you previously downloaded. On the left side you will see folders on your local machine and on the right side you will see the server content. On the right side locate your WordPress installation folder and upload the theme folder into the ..wp-content/themes/ .
When the upload is complete access the WordPress admin panel by going to http://www.example.com/wp-admin and navigate to to Appearance > Themes and activate the theme.
Now that you have completed the installation you can check theme documentation for help with using the theme or you can import XML file (Demo content) to get started. Instructions for using XML files can be found here http://www.themeskingdom.com/knowledge-base/import-demo-content/.