First things first, you will have to download XML (Demo Content) file. Go to www.themeskingdom.com/account/dashboard/ and click on the "XML" button to download it.
Importing demo content is quite easy, just follow these steps:
Login into your WordPress admin panel and navigate to Tools / Import.
Click on WordPress button which will open new popup window.
In the popup window click on "Install Now" button.
After the plugin is installed click on "Activate plugin & run import" link.
When the plugin is opened click on "Choose file" button.
Select the .xml file you downloaded.
Click on "Open" button.
Click on "Upload file and import".
Select which author to assign to posts.
Check the "Download and import file attachments" box.
Submit and wait for import to finish.
Importing Revolution slider files
If you want your theme to have same slider as the one on our demo site all you have to do is write a ticket to our support staff and request the file for theme you are using. You can submit a ticket here.
After you receive slider.txt file there are couple of steps you need to follow in order to import the file to your slider:
Login into your WordPress admin panel and navigate to Revolution Slider.
Click on the "Import Slider" button.
Choose the .txt file you previously received.
Click on the "Import Slider" button.
Importing Widgets export file(WIE)
Inside zip file you will find and widgets export file – WIE. WIE file contains all information about active widgets and their positions in theme widget areas.
Before importing widgets, you will need to download, install and activate Widget Importer & Exporter plugin.
After successful installation, go to Tools -> Widget Importer & Exporter. Browse for WIE file on your computer, and press Import Widgets button when done.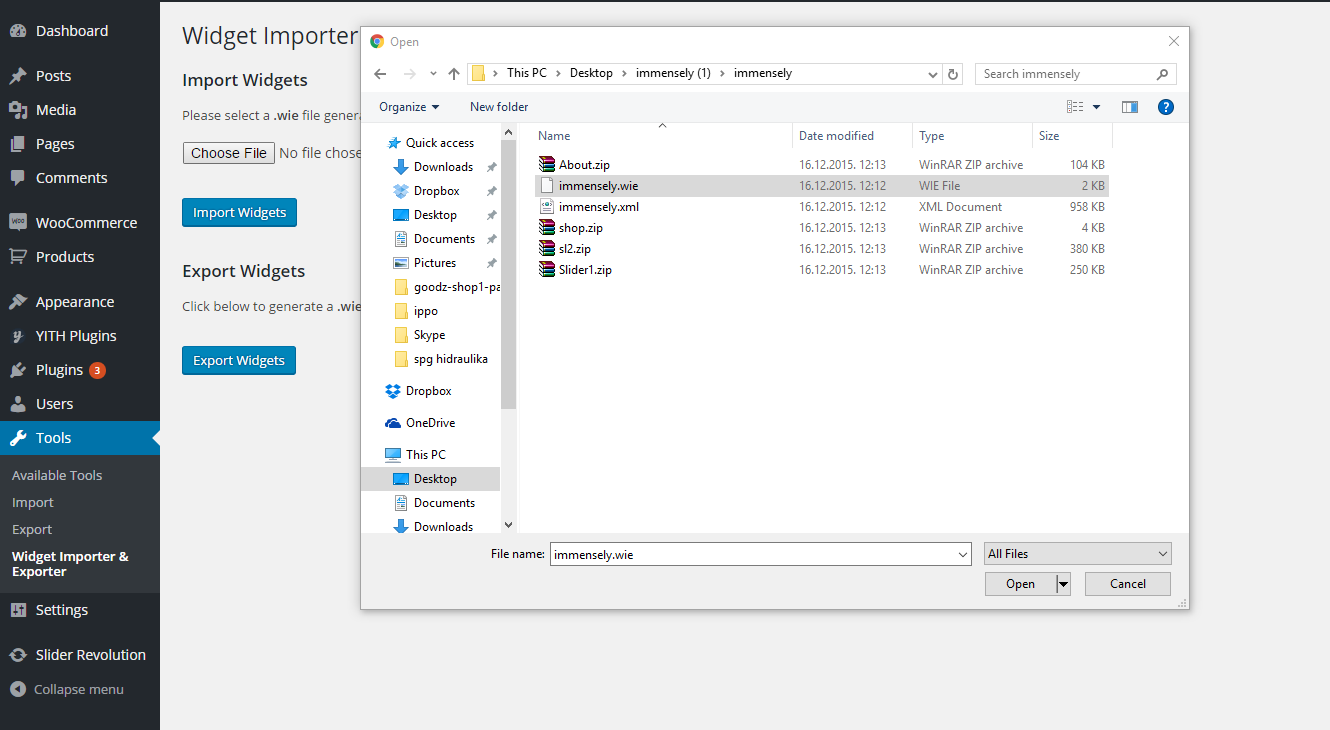 Widget importer will activate all widgets and place them in correct widget areas. Please note that if you receive fail messages, that means that your theme is probably missing widget area, but all other widgets should be imported correctly.