Themes Kingdom Advertising Plugin adds custom post type Advertising to your theme. With advertising you can create ads and display them on site. Advertising allows you to create custom banners or to paste third-party banner code(Google Ads). Created ads can be displayed using Advertising widget
Advertising post type is available in admin side panel.

Creating advertisement
Login into WordPress admin panel and go to Advertising -> Add New.
Advertisement title: Name for your ad. This name will be used to identify your ad.
Advertisement chart: Chart that will display performance of your ad. Blue is used for number of views, while red is used to display number of clicks.
Advertisement Link: Link where your add will lead. Please note that you do not need to set this if you are using Custom Banner Code.
Custom Banner Code: Here you can paste custom code for the banner – for example, from Google Ads. You can also create custom HTML or JavaScript code and paste it here.
Publish/ Update: Once you click Publish/ Update, your ad will be available in Advertising Widget.
Featured Image: You will need to set Featured image, which will be used to display ad. Image dimensions should be 125x125px.
Using Advertising Widget
Advertising Widget is used to display created ads. You can add multiple Advertising Widgets to desired widget areas, in order to display different ads.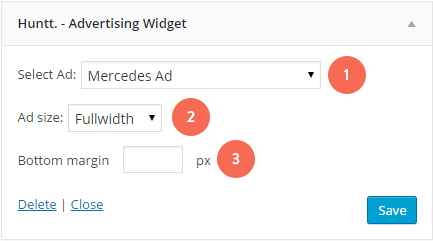 Select Ad: Dropdown will display all published advertisements. Select ad you want to display.
Ad Width: Ads can be shown in fullwidth or halfwidth, related to widget width.
Bottom margin: You can add custom spacing below the advertising widget.